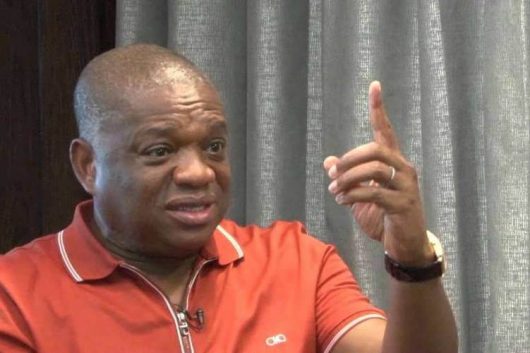 From Mika'il Tsoho, Dutse
The Former Abia state Governor, Orji Uzo Kalu, has said although Sule Lamido happens to be his bosom friend and an aspirant for Nigeria's President in the PDP, but he will not vote for him against President Muhammad Buhari in the forthcoming 2019 general election.
Kalu stated this at the Government House, Dutse while on a state visit to Jigawa state, adding that he is touring the country to sensitise Nigerians on the dire need to allow President Muhammad Buhari to be re-elected president come 2019.
He maintained that there will not be any Presidential candidate that will have all the qualities and support against President Muhammad Buhari for a better future of Nigeria.
"Although Alhaji Sule Lamido happens to be my bosom friend and an aspirant for Nigeria's President in the PDP, I told him I will not vote for him against President Muhammad Buhari", he declared.
Kalu, who also blasted former President Olusegun Obasanjo over the letter he wrote to Buhari in which he advised him not to seek re election, said the former President lacks the moral right to decide who becomes what in Nigeria.
"People seem to have forgotten when former President Obasanjo was literally absent for about three years, travelling all over the world, when he was President and then nobody told him not seek re-election", he stated.
"He does not have the moral right to decide for Nigerians who becomes President, though when he was President no one wrote letters advising him against seeking for re election", he added.
Kalu said Nigerians have the moral obligation to choose their leaders through the democratic process, advising them to go ahead and vote for Buhari as President, while also voting for Muhammed Badaru for Jigawa state Governor.
He said voting for other people other than Buhari is giving an opening for the continued looting of the country's treasury by 'looters'.
The Jigawa Governor, Alhaji Muhammed Badaru, who expressed his excitement over the visit by the former Abia Governor, said his choice to project the reason for the re-election of President Muhammad Buhari is unprecedented.
Muhammed Badaru said although President Muhammad Buhari has constantly won elections in Jigawa, however, there is further need to re-educate and re-energize them to see reason why they should give Buhari another chance to run for President of the country.
Badaru, who went down memory lane on how the APC government met the already 'battered' economy by the PDP said, "Jigawa people are better informed and educated on how we met the state treasury and economy and that is why no one can deceive them at this moment', he said.