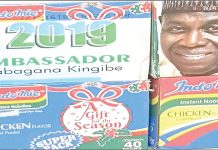 By Lateef Ibrahim
After the initial denial of nursing a presidential ambition, branded and customized Indomie Noodles bearing the name and portrait of former Secretary to the Government of the Federation (SGF), Ambassador Babagana Kingibe, have flooded the Nigerian markets.
Ambassador Kingibe, who was the running mate to late Chief MKO Abiola during a the 1993 presidential election, had placed advertorial in some newspapers last Thursday, denying that he was nursing presidential ambition, saying in a statement that he "neither produced nor authorized" anybody to produce campaign posters on his behalf".
The Kingibe Indomie Noodles, however, which are said to be on sale at some major markets across the country, are being sold at subsidized rate of N1, 500 as against the market price of N3, 150.
A source close to Kingibe said the former SGF believed he was a target of smear campaign by some political enemies.
Kingibe said that much in the statement, when he declared that "The phantom allegations and pasting of posters are striking to be coincidental. This is a miscalculated attempt to malign and defame me."
The source, who confirmed an audience with the president early last week when the posters appeared, disclosed that it was to further assure Buhari of his loyalty that Kingibe took paid advert in some national dailies to dispel his rumoured presidential ambition.
Some directors of the National Intelligence Agency (NIA) had written to the House of Representatives Committee on Security and National Intelligence, alleging that Kingibe who headed the Federal Government panel that reviewed the operational, technical and administrative structure of NIA, in the aftermath of the $43 million of the agency found at Lagos apartment, recommended the appointment of Ahmed Rufai Abubakar, as Director General of the NIA.
It is gathered that Abubakar's appointment will likely lead to premature retirement of some directors of the agency.