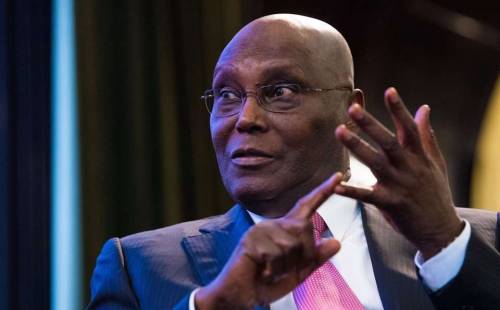 From Mika'il Tsoho, Dutse
Two Peoples Democratic Party presidential aspirants, including former Vice President, Atiku Abubakar and former governor of Jigawa state, Sule Lamido yesterday held a close-door meeting at Bamaina town, Jigawa state.
The meeting which lasted for two hours may not be un-connected with their plans two defeat the present administration of All Progressive Congress (APC) led by President Muhammadu Buhari in the 2019 general elections.
Speaking earlier at the Peoples Democratic Party Secretariat in Dutse, the former Vice President assured PDP delegates that he is the best PDP aspirant that can challenge President Muhammad Buhari and defeat him in the forthcoming general elections.
He explained that with vast experiences he acquired as two term Vice President, he knows where the problem is and how to solve it for the betterment of the country.
Atiku also said he returned to PDP as he has right to do that with the aim to make Nigeria best and better for all.
According to him, presently Nigeria and Nigerians in general are suffering from what he described as unprepared leadership of APC, adding that only Peoples Democratic Party (PDP) can save the nation.
While speaking on his close door meeting with former Governor Sule Lamido, he said they have close relationship as brothers to each other and also members of the same party.
He therefore urged Jigawa people to vote PDP in 2019, as according to him, the present APC administration has done nothing for the development of the state.
"I beg you in the name of Allah, do not vote for APC again, vote PDP in 2019 because throughout four year of Governor Badaru, no single one million project is commissioned, please", Atiku said.