UK on collision course with Russia over chemical weapons vote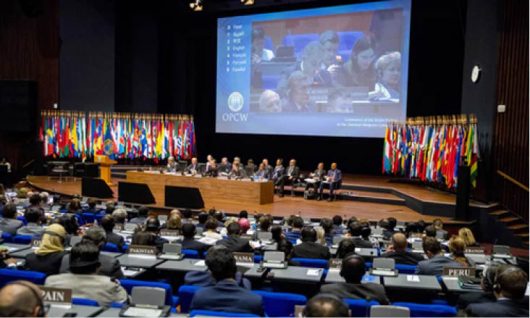 Two-thirds majority required to empower OPCW to identify source of attacks in Syria
The west appears to have the votes to defeat Russia and force through changes that would give weapons inspectors expanded powers to identify those responsible for using chemical weapons in Syria.
The changes are being proposed by a UK-led alliance angry at the way Russia has shielded the regime of the Syrian president, Bashar al-Assad, from culpability over the repeated use of chemical weapons.
The UK has convened a special conference of the Organisation for the Prohibition of Chemical Weapons in The Hague at which it is proposing the OPCW should be empowered not just to investigate whether chemical weapons have been used in an incident, as at present, but also to identify the group or government responsible.
Russia, already at loggerheads with the UK over the use of a nerve agent in Salisbury, is fiercely resisting the move, saying it will politicise the OPCW. It claims British Russophobia risks wrecking a respected and largely scientific body that is responsible for overseeing adherence to the chemical weapons convention.
After a bitter procedural battle in the opening two hours of the conference, the OPCW finally adopted its agenda, brushing aside Russian objections. With 107 countries voting, 98 countries backed a US-led call to adopt the conference agenda, with nine led by Russia opposing.
The vote suggests the west probably has the numbers win a substantive vote on Wednesday empowering the OPCW for the first time to identify the parties using chemical weapons in Syria. The motion requires a two-thirds majority, not counting abstentions. A total of 147 countries are accredited to the conference, but the credentials of 32 countries were under challenge.
Mounting a relentless series of points of order, delaying the conference's start, Russia, Syria and Iran tried to have the meeting adjourned until questions about the validity of the 32 delegations were resolved.
But the US ambassador Kenneth Ward eventually demanded that the conference go ahead and vote to adopt the agenda. "I insist on a vote right now," he said, leading to further Russian protests.
The UK's foreign secretary, Boris Johnson, said before a speech to the conference: "The international community came together in 1997 to outlaw the development, stockpiling and use of these vile substances through the chemical weapons convention. We now owe a duty to the world to seize the opportunity that this meeting provides to uphold and strengthen that ban, so that chemical weapons are truly banished to the past."
Any extension of the OPCW's powers would unnerve Assad's army, which has been repeatedly accused of using chemical weapons to drive out opposition forces, most recently in Douma, a suburb of Damascus.
The Douma attack led to a cruise missile assault on Syrian chemical weapons sites led by the US, France and the UK in April. OPCW inspectors visited the site of the Douma attack 12 weeks ago and have yet to report.
Assad, supported by his sponsor Russia, has repeatedly denied using chemical weapons, dismissing the incidents as stunts mounted by western intelligence.
At present the OPCW's inspectors only have powers to say whether chemical weapons have been used following a fact-finding visit, but not to identify the group or country suspected of deploying them in any specific incident.
Last November at the UN, Russia vetoed the renewal of the mandate of the Joint independent Mechanism, the body charged with identifying the perpetrators. The west claimed Russia had used its veto as a permanent member of the security council because the JIM's reports had shown the Assad regime was repeatedly breaking the weapons convention mainly by using sarin or chlorine on Syrian citizens. The JIM had found the Syrian government responsible for an attack at Khan Sheykhun in 2017 that killed as many as 90 people.
The UK has the support of the secretariat of the OPCW to give the body wider powers and to enforce the previously established prohibition of the use of chemical weapons. It says the attribution responsibility is within the existing mandate of the OPCW.
The UK is specifically calling for the attribution powers to be used initially in Syria, and for a wider strengthening of the OPCW to be endorsed and considered at a further special conference in six months' time. It says the OPCW must adopt a higher profile or it will drift into irrelevance.
Russia has tabled a counter-proposal that the UK says would give Russia the right to veto the OPCW conclusions and would undermine the independence of the OPCW director general.
Diplomatically, it would be a blow for the UK if the special conference – which is open to any country that has signed the chemical weapons convention – votes both for the British resolution and the resolution backed by Russia. wn.com