Morocco, Cameroon arrive for Nigeria U21 Volleyball Nations Cup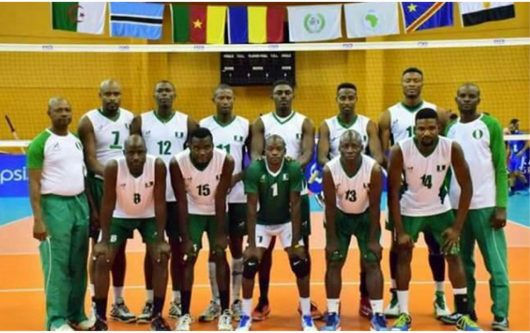 By Amaechi Agbo
Morocco and Cameroon are the early countries that have arrived Nigeria ahead of this week's U21 Boys Africa Volleyball Nations Cup which commences tomorrow, September 10, 2018, in the nation's capital, Abuja.
The two countries are part of the 8 countries that have indicated interest to participate in the 10-day championship.
The President of Nigeria Volleyball Federation NVBF, Musa Nimrod told newsmen yesterday that 13 countries indicated their participation but added that at the time of the press briefing yesterday, only 8 countries have concluded their registration formalities adding that Morocco's contingent arrived on Sunday while Cameroon will arrive Tuesday morning via charted flight.
The President further added that the championship will serve as qualifiers for next year's U21 World Championship
The Confederation of Africa Volleyball (CAVB) gave the Nigeria Volleyball Federation (NVBF) the approval to host the U21 Boys Africa Nations Cup in the federal capital, Abuja.
The president who stated that the target was to dethrone defending champions, Egypt, added that the draw for the championship will be released on Tuesday after the NVBF in conjunction with CAVB have confirmed the number of participating nations.
"Nigeria Volleyball team won the U19 category in Algiers. It is our desire that we will win the U21 Africa Nations Cup here in Nigeria.
"We are expecting 13 countries but so far we have 8 countries who have registered already. We have put everything in place to ensure successful hosting. Nigeria is hosting to make a mark in the continent.
"The defending champions of the U21 are Egypt. They have been doing well in the age category but we defeated them in Algiers and by the grace of God, we are going to take over from them; that is our plan.
"Currently we have Nigeria, Democratic Republic of Congo, Chad, Burkina Faso, Rwanda, Guinea, Tunisia, Egypt, Niger, Botswana, Cameroon and Morocco. These are countries that put in interest to participate.
"But as at Sunday, we have not seen entries from Guinea, Ghana, Burkina Faso and Niger. The 8 countries we have on ground are Nigeria (which is the host country), Morocco – which just arrived on Sunday; Chad, Rwanda, Egypt, Tunisia, Congo and Cameroon.
"The draw for the championship will be done today. The delay is because the federation has not confirmed the total number of participating teams and with the registration deadline put at 12am on Tuesday, the draw for the event will be rolled out later this afternoon," the President said.
The NVBF thanked the FCT administration and the ministry of sports for their support.